ProTeam Classic Corvette Collection and Sales has the world famous collection of classic Corvettes. ProTeam has two type Corvettes on display: (A) Corvette for sale cars which include many very nice Corvettes which are actively marketed and for sale and (B) The Collection which include some of the rarest Corvettes ever made. These cars are not actively marketed but are on display and many have been invited to very special shows around the country. We would consider offers on our collection cars should that offer advance our position. Complete description with photos and prices are located here on line. Money Back Guarantee. Delivery, finance, and insurance are available here on line. Review our condition codes before making any purchase. Please read our descriptions carefully as we attempt to answer many very important questions and give you, the purchaser, peace of mind. Have a specific question or request - proteam@proteamcorvette.com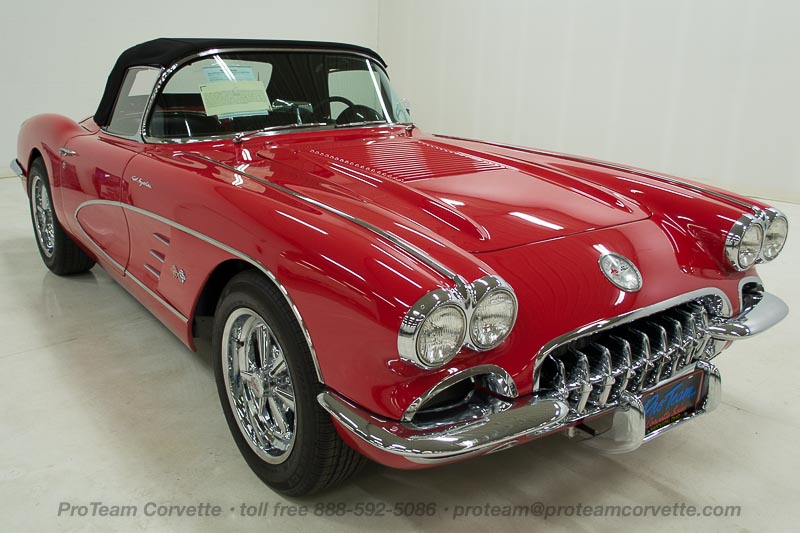 1002H..
1958 Corvette Convertible Custom
, LT4 V8 with aluminum heads and 4-speed transmission.
Rally
Red paint with Black interior and Black Haartz soft top. Conversion to a custom resto-mod touring machine was primarily the work of Street Performance Co. of Mena, Arkansas, known experts in customs, rodding, resto-mod'ing and powertrain building. This project began with a straight original body and solid frame. Optioned with 330hp LT4 engine, new modern radio while retaining the original dash and gauges. Handling and looks were enhanced by front disc brakes, polished 17 inch Cragar Billet aluminum SS wheels and Michelin radial tires. The exterior still remains stock looking and has the stock washboard hood and trunk irons. The car's extensive chrome was also redone at time of restoration and rebuild. These type restorations normally cost between $80,000.00 to $125,000.00. This is a very good looking custom that should delight any dedicated straight axle enthusiast. Looks, runs, and drives excellent. $99,998.00
Share on Facebook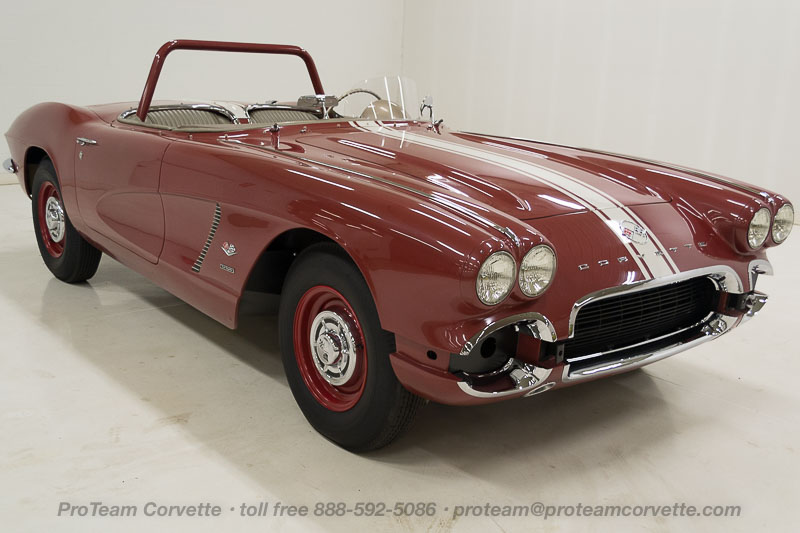 1035D..
1962 Corvette Ben Moore #18 Fuelie Race Car
with RPO-687 heavy duty brakes, suspension, fast steering adapter, 3.70 posi, wide wheels and
double front sway bars
(part of Sebring Race Package). Also has pro-mounted Maroon roll bar with drill test hole. Honduras
Maroon
paint with Fawn interior, White racing stripes (ghost) with original seats, dash pad, gauges, steering wheel, and a full tonneau cover when found. Also had a small driver side racing windshield, rally racing lights, and a hardtop earlier in its life. VIN #20867S101361 was raced by Ben Moore (Hauser Chevrolet) in 1962 (race #18) when he won the Northeast SCCA A-Production Divisional Championship. Raced at Marlboro (April 1962), V.I.R. (April 1962), Cumberland (May 1962), Vineland (May 1962), Bridgehampton (June 1962), and Watkins Gen (June 1962). Body-off restoration by "The Crew" at ProTeam Corvette and now in show condition. Documentation includes 4-year exhaustive research done by Bill Gould/Auto Ancestry, race photos, race grid sheets, SCCA records, and several 3-ring binders. We still need to locate the rally lights and install the race numbers. CC:1 $300,000.00 Email:
terry@proteamcorvette.com
Share on Facebook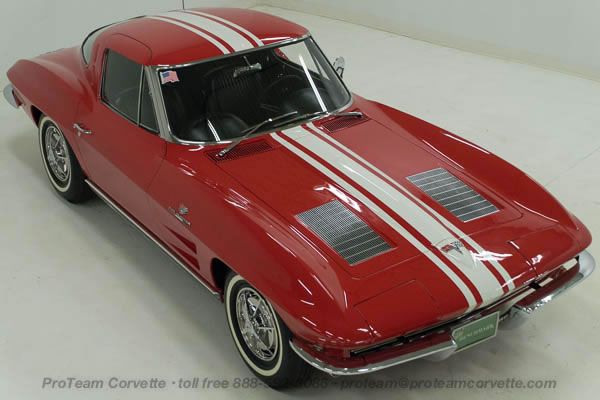 1022E..
.1963 Corvette Split Window Coupe RPO-Z06 Fuelie
, 327-360 hp, 4 speed, numbers match, (The Real Deal) and also has factory original body/trim tag, 39,000 actual miles. Riverside
Red
paint with White racing stripes and Black interior. The racing stripes and chrome wheels were added by the delivering dealer when new. This is an incredible time capsule that is an original unmolested car including paint, interior, window glass, motor, transmission, and rear end. These original unmolested cars are among the rarest of rare and are rising to the top of the Corvette food chain as unrestored cars are used as guideposts for restorers, shining a light on the way vehicles were originally built. Recent affirmation by CCAS, LLC/Al Grenning as to the legitimacy and originality of the cylinder case (engine block), engine stamp pad and stamping. Bloomington Gold Benchmark award in 2013 which includes Gold and Survivor certification awards. To date this is one of less that 200 Corvettes in the world which can lay claim to this award. Also has multiple NCRS certifications including Top Flight (2002) and Bowtie (2000) and includes the NCRS confirmation of existence of judging awards (six). The expenses involved in obtaining these awards could surely exceed $20,000.00. This one owner Z06 (until a few years ago) was used by GM in their re-launch of the 2001 Z06 and is pictured in the 2001 Z06 sales brochure. The Z06 special performance option appeared on only 199 Corvettes and cost $1,818.45 which was almost 50% of the base price. This option included special heavy duty metallic brakes with finned drums and cooling fans, special one-year only master cylinder and special heavy duty suspension. Optioned with power brakes, 3.70 posi, Z06 heavy duty metallic brakes with finned drums and air scoops, Z06 special heavy duty suspension, AM/FM radio, fuel injection, 2 sets of wheels/tires and 1963 hubcaps (NOS). Most all factory type components including the spare, jack, jack tools, K.O. wheel hammer, clear floor mats, shocks, seat belts, washer system, shifter, shielding, air cleaner, alternator, idler pulley, distributor, heads, F.I. unit, F.I. fuel filter, 7 leaf spring, all dated shocks, front sway bar, Z06 dual master cylinder, ball joints, hoses, hose clamps, exhaust heat shields, radiator, expansion tank, finned balancer, starter, gas door assembly, Bowtie mirror, glove box door, cookie tin hood, warranty book, owners manual, sales brochure, and T-3 headlights. Documented with the dealer invoice, letters from GM, owners manual packet, plaque from Corvette Museum, Bloomington/NCRS awards, certificates, judging sheets, owners card, patch, pin, keys, GM 2001 Z06 re-launch brochure (with this car), receipts dating back to 1963, Z06 survey, photos of the original owner of 43 years, fuel fill-up log, maintenance log, and 1963 license plates. Production date of July 24th, 1963 and delivered new by Jack Schwirtz Chevrolet in Elizabeth, IL (dealer code 591 in zone 61) per the official NCRS/GM Shipping Data Records (SDR). Go to ProTeamCorvette.com to read about this phenomenal Red Z06 split window. Also editorialized in the June 2002 VETTE Magazine (cover and inside). This phenomenal car is a very late production Z06 and one of the last produced.
1963 "The Year of the Z"!
199 Z06 special performance weapons grade competition warriors were built to compete on the road courses of America and Europe early in the 1960's. Looks, runs, and drives excellent and is a true treasure and a pinnacle of preservation.
Widely regarded as the best original unrestored and legitimate Z06 in the world!
CC:1 P.O.R. email:
terry@proteamcorvette.com
Share on Facebook
Questions/Comments? Email proteam@proteamcorvette.com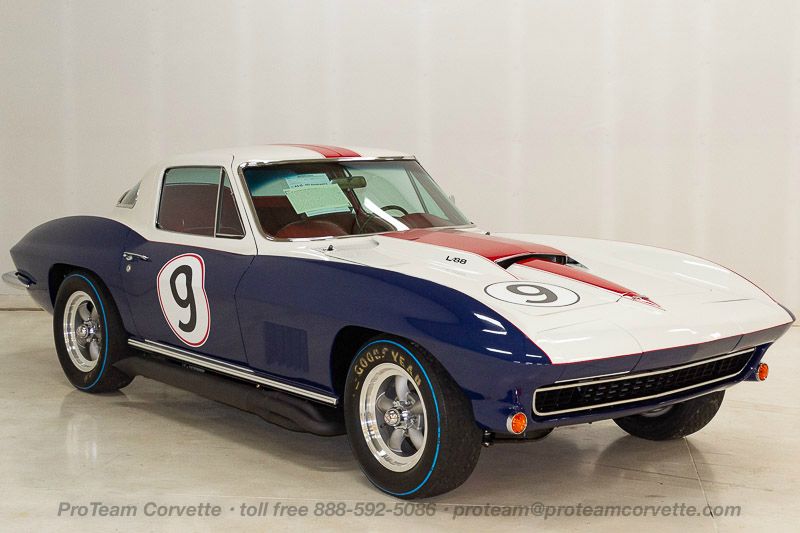 1006L..
1967 Corvette L88 Coupe Tanker Re-Creation
. Red, White, and Blue. A stunning well-executed body-off re-creation build of the famous 1967 Corvette LeMans L88 Race Car. 427 4-bolt main block engine that has been bored and stroked to 492 ci producing 550 hp on pump gas. Outfitted with a hydraulic roller cam, Brodix aluminum heads, L88 intake, holly carburetor and an aluminum radiator with twin SPAL cooling fans. It also has a Muncie 4-speed manual transmission with M22 rock crusher gear set, 3.70 posi-traction rear end and mounted side pipe headers. The fresh frame-off restoration includes new Ermine
White
paint with Red hood stinger and new Red Al Knoch interior. The body was vinyl wrapped with Blue side panels, Red roof and rear deck striping to replicate the 1967 LeMans racer color scheme. The #9 roundels are static-cling. The wrap and roundels can be easily removed to return the car to a total white finish. The body retains its original VIN tag and trim tag. The chassis and suspension has been restored and powder-coated. Unique L88 aspects of the car include OEM heater delete plates and dash plugs, an OEM radio delete dash panel, OEM transistor ignition, OEM radio draft tube, OEM J56 big brake stiffener brackets, proportioning valve, dual-pin calipers, reproduction 36-gallon gas tank cover, and cold-air hood ducting. This amazing car rides on 15" American Racing Torque Thrust D alloy wheels with Goodyear Blue Streak racing tires and tubes. These type of restorations normally cost between $80,000.00 to $125,000.00 not counting the L88 specific parts and components. This car is jewelry!!! CC:1 $110,000.00
Share on Facebook
Questions/Comments? Email proteam@proteamcorvette.com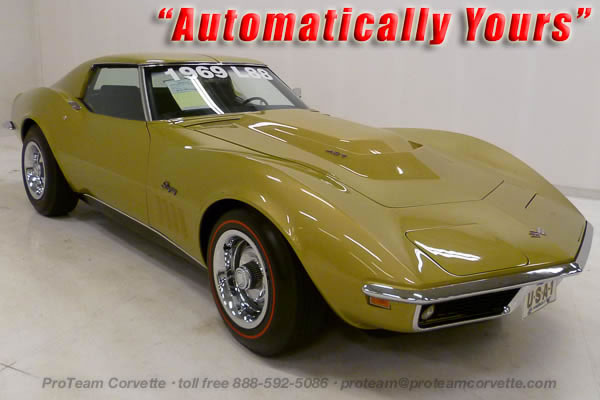 1067D..1969 Corvette Coupe known as "automatically yours", L-88 (560 hp), turbo-hydramatic, numbers match. Riverside Gold paint with Black interior. Body-off restored by internationally famous Naber's Brothers of Houston, Texas in show condition. These type restorations normally cost between $80,000.00 to $125,000.00. Bloomington Gold certified with a score of 99.5% and a recent regional NCRS certification September 2010!!! A purpose built car and one of a total production of 216 L-88's built in years 1967 through 1969 and one of only 17 automatic L-88's ever produced. This car was also owned by businessman and philanthropist John Moores of the San Diego Padres and was donated, along with 26 exceptional automobiles which included thirteen 1953 Corvettes as well as CERV II and two Ferrari Nart Spyders, to the Scripps Research Institute to benefit the Institute for Childhood and Neglected Diseases and was sold by the Scripps Institute several years ago at the Christie's auction at La Jolla, California (Torre Pines). It is well known that much of the paperwork, history, and factory documentation (window sticker) that was possessed by Mr. Moores either was misplaced or lost during either his ownership or that of the Scripps Institute. Other past owners include John Leonard of Georgia and Ken Heckart from Pennsylvania. Radio delete car optioned with aluminum heads, power brakes, headrests, shoulder harness, transistorized ignition, 3.70 posi, F-41 special heavy duty suspension, J-56 heavy duty brakes, SS brakes, A.I.R., tinted glass, rallys, F-70x15" red stripe tires. Most all factory correct type components including the spare, jack, jack tools, T-Top bags, F-41 shocks, seat belts, washer system, smog system, shifter, air cleaner, owners manual, sales brochure, and T-3 headlights. Documented with the Bloomington Gold and NCRS judging sheets and owner history with recent email and period race photos from Bard Chevrolet's service manager who drag raced this car when new. "Automatically Yours" was sold and used as a drag car by its first owner, Bard Chevrolet. Production date of December 11th, 1968 and delivered new by Bard Chevrolet in Newburgh, NY (dealer code 47 in zone 2) per the official NCRS/GM Shipping Data Records (SDR). This very rare Corvette Stingray L-88 is one of the most sought after models of American high performance sports cars ever produced. Click here to read email and view his old race photos. Looks, runs, and drives excellent. CC:+1 MAKE OFFER email: terry@proteamcorvette.com
Share on Facebook