ProTeam Classic Corvette Collection and Sales has the world famous collection of classic Corvettes. ProTeam has two type Corvettes on display: (A) Corvette for sale cars which include many very nice Corvettes which are actively marketed and for sale and (B) The Collection which include some of the rarest Corvettes ever made. These cars are not actively marketed but are on display and many have been invited to very special shows around the country. We would consider offers on our collection cars should that offer advance our position. Complete description with photos and prices are located here on line. Money Back Guarantee. Delivery, finance, and insurance are available here on line. Review our condition codes before making any purchase. Please read our descriptions carefully as we attempt to answer many very important questions and give you, the purchaser, peace of mind. Have a specific question or request - proteam@proteamcorvette.com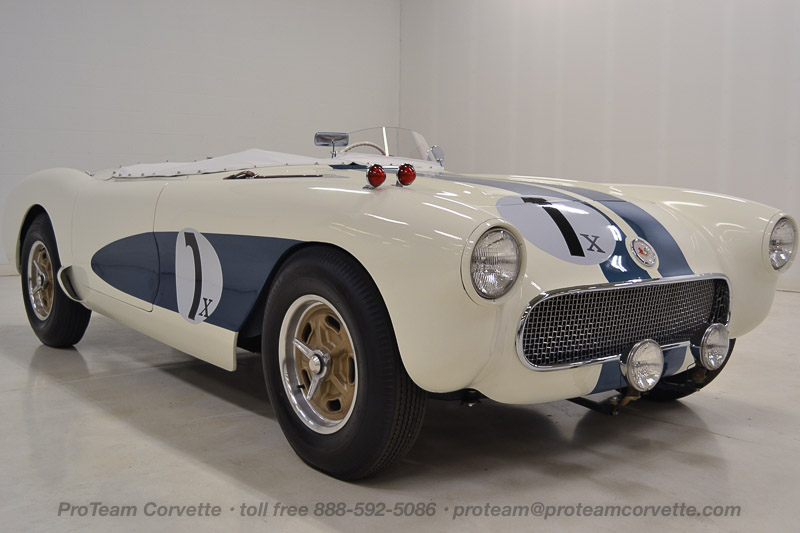 1005H..
1956 Corvette SR1 Tribute "The Real McCoy"
, 265 V8 engine with dual fours and manual transmission. Polo
White
paint with Blue coves, Blue stripes, and Red interior. This replica is a beautifully executed tribute to the Sebring Class - Winning SR1 prototype and accompanied with Chevrolet Engineering Experimental Shop and Garage build orders. The SR1 (Special Racing) Prototype was created by GM's Chevrolet Engineering in late 1955 and early 1956. In Corvette's first entry into sports car racing, at the 1956 Sebring 12 Hours, the SR1 driven by John Fitch and Walt Hansgen won its class and finished 9th overall. The chassis has many period-correct race features including high-rate shortened front coil springs and faster steering. The rear suspension has lengthened shackles and five-leaf springs. Lightened by 250 lbs. and equipped with Halibrand pin-drive and spin-on retainers. These type restorations normally cost between $80,000.00 to $125,000.00. Three owners from new and stored approximately 40 years. $119,000.00 Email:
terry@proteamcorvette.com
Share on Facebook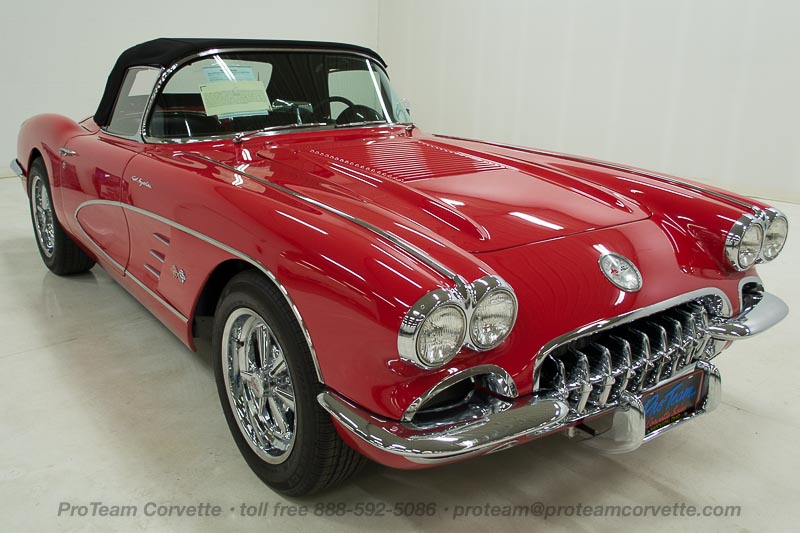 1002H..
1958 Corvette Convertible Resto-Mod
, LT4 V8 with aluminum heads and 4-speed transmission. Rally
Red
paint with Black interior and Black Haartz soft top. Conversion to a resto-mod touring machine was primarily the work of Street Performance Co. of Mena, Arkansas, known experts in rodding, resto-mod'ing and powertrain building. This project began with a straight original body and solid frame. Optioned with 330hp LT4 engine, new modern radio while retaining the original dash and gauges. Handling and looks were enhanced by front disc brakes, polished 17 inch Cragar Billet aluminum SS wheels and Michelin radial tires. The exterior still remains stock looking and has the stock washboard hood and trunk irons. The car's extensive chrome was also redone at time of restoration and rebuild. These type restorations normally cost between $80,000.00 to $125,000.00. This is a very good looking resto-mod that should delight any dedicated straight axle enthusiast. Looks, runs, and drives excellent.
Share on Facebook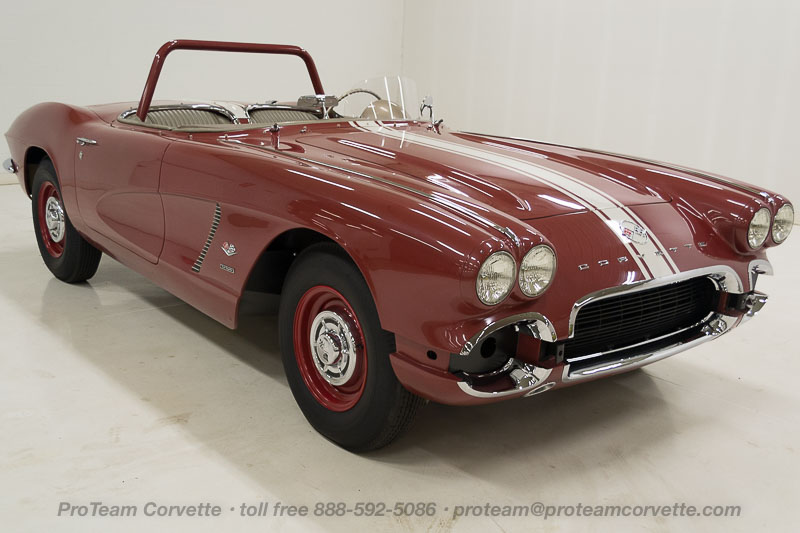 1035D..
1962 Corvette Ben Moore #18 Fuelie Race Car
with RPO-687 heavy duty brakes, suspension, fast steering adapter, 3.70 posi, wide wheels and
double front sway bars
(part of Sebring Race Package). Also has pro-mounted Maroon roll bar with drill test hole. Honduras
Maroon
paint with Fawn interior, White racing stripes (ghost) with original seats, dash pad, gauges, steering wheel, and a full tonneau cover when found. Also had a small driver side racing windshield, rally racing lights, and a hardtop earlier in its life. VIN #20867S101361 was raced by Ben Moore (Hauser Chevrolet) in 1962 (race #18) when he won the Northeast SCCA A-Production Divisional Championship. Raced at Marlboro (April 1962), V.I.R. (April 1962), Cumberland (May 1962), Vineland (May 1962), Bridgehampton (June 1962), and Watkins Gen (June 1962). Body-off restoration by "The Crew" at ProTeam Corvette and now in show condition. Documentation includes 4-year exhaustive research done by Bill Gould/Auto Ancestry, race photos, race grid sheets, SCCA records, and several 3-ring binders. We still need to locate the rally lights and install the race numbers. CC:1 $300,000.00 Email:
terry@proteamcorvette.com
PRC = Personal Reserve Collection
Share on Facebook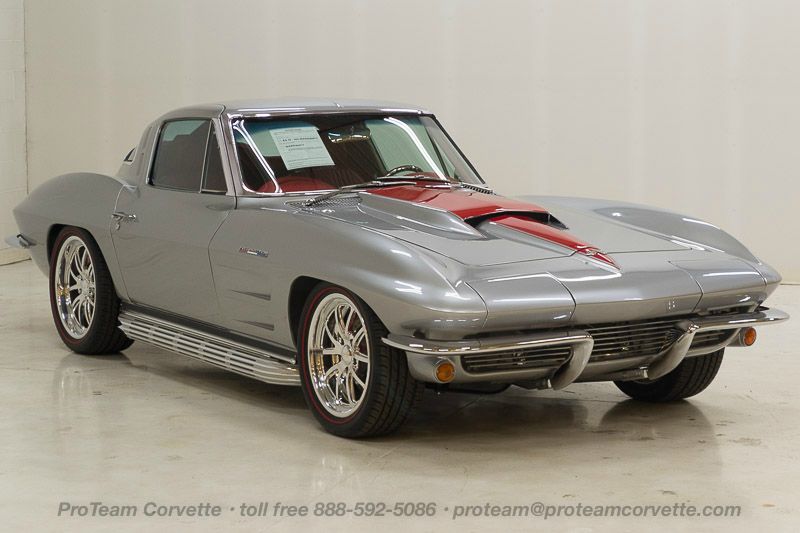 1008J..
1963-64 Corvette Custom Split Window Retro-Mod Coupe
, known as the "Furious Fuelie", Hi-Po 327 V8 with Weber-style billet short-stack electronic fuel injection and a Tremec 5-speed transmission. House of Kolor
Platinum Pearl
paint with a Red stinger hood and Red custom leather interior. Documented frame-off resto-conversion in show condition front to back and top to bottom. Custom modern suspension with 4-wheel Wilwood 13" disc brakes and custom wheels riding on low profile redline radials. The custom interior is a tasteful blend of vintage Corvette with modern touches including power steering, power windows, and tilt steering column. These type of custom retro-mod conversions normally cost $125,000.00 to $150,000.00 to build!! Documented with build photos, show board (poster), and Shipping Data Report from NCRS/GM. Production date of February 17th, 1964 and delivered new by Kenneth Chevrolet in Hawthorne, CA (dealer code 267 in zone 20) per the official NCRS/GM Shipping Data Records (SDR). Titled as a 1964 with factory original VIN and trim tag. Serious hot color combination of Silver/Red!!! Looks, runs, and drives excellent. CC:1 $149,000.00
Share on Facebook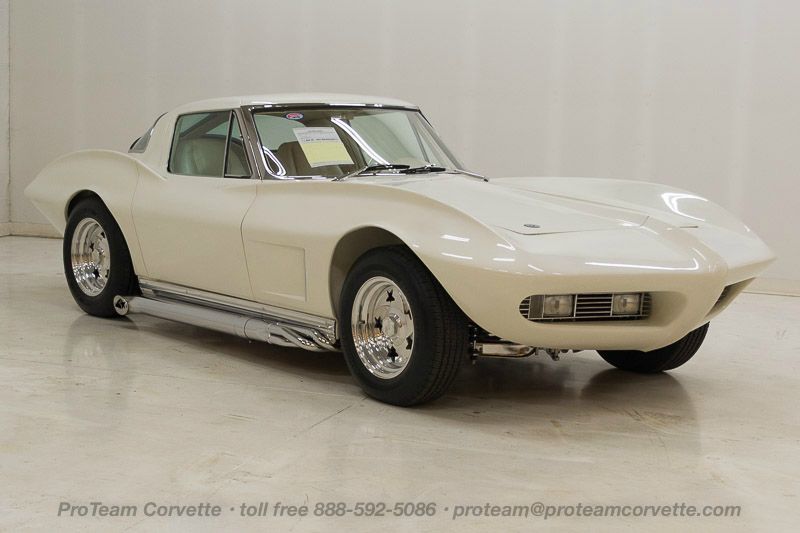 1007J..
1963 Corvette Custom Split Window Coupe known as "The Outer Limits"
was built and restyled by Farhner custom shop of Kansas City, MO from a brand new factory split window coupe that had less than 100 miles on it and completed in late 1963. The wheel wells were radiused and the fender tops were heightened and finned outward. Shaved door handles were replaced with electrical solenoids. Side pipes were added along with a custom screw gear mechanism to open the hood for show car displays. It was featured in Rod and Custom magazine. Paint is White Pearl with White leather interior with contrasting Red carpet and an asymmetrical modified dash. A shooting star theme can be seen on the headliner and 5-star custom wheels, This car was restored in the 1970's and upon completion shown at the Car Craft Street Machine Nationals. The under car and chassis are absolute jewelry!!! Thousands of dollars were spent on custom chrome plating. Motor is a high performance V8 that runs very strong backed-up by a Muncie 4 speed and 3.36 posi-traction rear end. Documented with a detailed build sheet and old display photos. Build cost would surely exceed 200 thousand dollars in today's money. "Outer Limits" was sold to Robert Petersen of the Petersen Museum where it was displayed for many years becoming a Los Angeles icon. Fresh out of the museum circuit, this car has been recently inspected and serviced by a renown Corvette L.A. area Corvette specialist. Production date of March 15th, 1963 and delivered new by Ed Roberts Chevrolet in Bonner Springs, KS (dealer code 711 in zone 5) per the official NCRS/GM Shipping Data Records (SDR). This car is kind of ugly BUT a very Kool kind-of-ugly!! Old customs seldom die as seen with many other Barris inspired cars of the 50's, '60's, and '70's. $69,995.00
Share on Facebook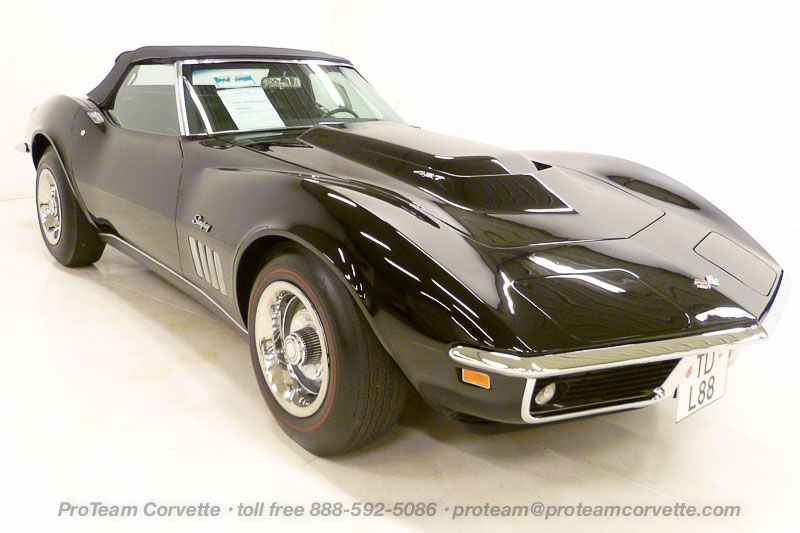 1058F..1969 Corvette Convertible
Triple Black
L88 aluminum head 427 with M-22 heavy duty close-ratio transmission. Tuxedo
Black
paint with Black interior and Black soft top.
One of two known to exist!
This is the last Triple Black L88 Convertible that was ordered new by Tony DeLorenzo as a personal driver. Tony DeLorenzo also bought and raced the first Triple Black L88 Convertible, a 1967, whose history is well-known. Tony's friend from Germany, Curt Wetzel, convinced Tony to race prepare this car and sell it to him. In late 1969 the car was loaded in the belly of a Pan Am jet and was flown to Germany where Wetzel successfully raced the car until purchased by the Porsche team to get it off the track. Nabers Brothers body-off restoration back to "as new" when purchased by DeLorenzo (pre-race configuration) in absolute show condition. These type restorations normally cost between $100,000.00 to $150,000.00. Bloomington Gold certified, NCRS Top Flight award, and Triple Crown award in 2005 and 2006. Also Bloomington Gold Special Collection twice and inducted in the Bloomington Gold Hall of Fame. The expenses involved in obtaining these awards could surely exceed $20,000.00. Optioned with aluminum heads, power brakes, tilt-n-telescopic, transistorized ignition, M-22, posi, J-56 heavy duty brakes, F-41 special heavy duty suspension, SS brakes, tinted glass, rallys, and red stripe tires. Documented with a copy of the original window sticker and sworn affidavit from DeLorenzo, compete owner history, FIA homologation papers, race results/grids, show awards/certificates and DeLorenzo autographed European license plate. Also editorialized in many European and US magazines. VIN #20068 was produced on March 28th, 1969 and delivered new by Hanley Dawson Chevrolet of Detroit, MI, dealer code 75 in zone 44, per the official NCRS/GM Shipping Data Records. Hanley Dawson Chevrolet was Tony DeLorenzo race sponsor in 1967. One of 216 L88 Corvettes produced in 1967, '68, and '69, and one of 116 L88 Corvettes produced in 1969 and one of two known triple black L88 Corvette convertibles in 1969 and per VIN number the "last" triple black L88 Corvette convertible ever produced! Looks, runs, and drives excellent. CC:1 email:
terry@proteamcorvette.com
PRC = Personal Reserve Collection
Share on Facebook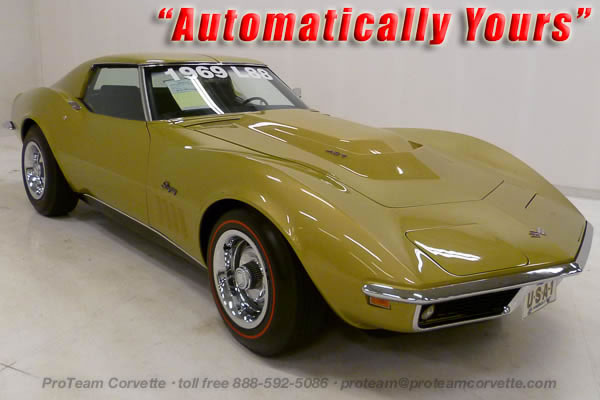 1067D..1969 Corvette Coupe known as "automatically yours", L-88 (560 hp), turbo-hydramatic, numbers match. Riverside Gold paint with Black interior. Body-off restored by internationally famous Naber's Brothers of Houston, Texas in show condition. These type restorations normally cost between $80,000.00 to $125,000.00. Bloomington Gold certified with a score of 99.5% and a recent regional NCRS certification September 2010!!! A purpose built car and one of a total production of 216 L-88's built in years 1967 through 1969 and one of only 17 automatic L-88's ever produced. This car was also owned by businessman and philanthropist John Moores of the San Diego Padres and was donated, along with 26 exceptional automobiles which included thirteen 1953 Corvettes as well as CERV II and two Ferrari Nart Spyders, to the Scripps Research Institute to benefit the Institute for Childhood and Neglected Diseases and was sold by the Scripps Institute several years ago at the Christie's auction at La Jolla, California (Torre Pines). It is well known that much of the paperwork, history, and factory documentation (window sticker) that was possessed by Mr. Moores either was misplaced or lost during either his ownership or that of the Scripps Institute. Other past owners include John Leonard of Georgia and Ken Heckart from Pennsylvania. Radio delete car optioned with aluminum heads, power brakes, headrests, shoulder harness, transistorized ignition, 3.70 posi, F-41 special heavy duty suspension, J-56 heavy duty brakes, SS brakes, A.I.R., tinted glass, rallys, F-70x15" red stripe tires. Most all factory correct type components including the spare, jack, jack tools, T-Top bags, F-41 shocks, seat belts, washer system, smog system, shifter, air cleaner, owners manual, sales brochure, and T-3 headlights. Documented with the Bloomington Gold and NCRS judging sheets and owner history with recent email and period race photos from Bard Chevrolet's service manager who drag raced this car when new. "Automatically Yours" was sold and used as a drag car by its first owner, Bard Chevrolet. Production date of December 11th, 1968 and delivered new by Bard Chevrolet in Newburgh, NY (dealer code 47 in zone 2) per the official NCRS/GM Shipping Data Records (SDR). This very rare Corvette Stingray L-88 is one of the most sought after models of American high performance sports cars ever produced. Click here to read email and view his old race photos. Looks, runs, and drives excellent. CC:+1 MAKE OFFER email: terry@proteamcorvette.com PRC = Personal Reserve Collection
Share on Facebook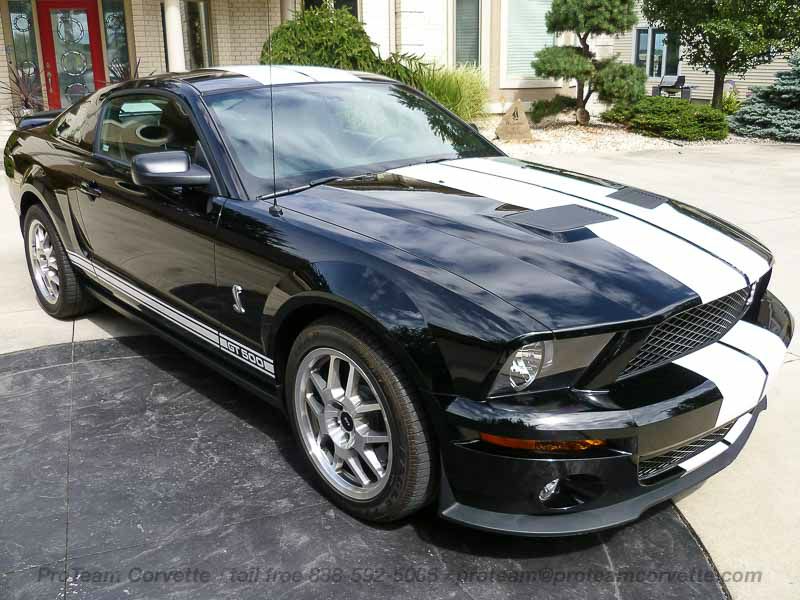 1068J..
2007 Ford Shelby GT 500, Supercharged 500 hp 6-Speed
, one owner car with 1,600 actual miles.
Black
paint with White stripes and Black interior. Showroom new condition! Has most options. Ford Performance Group and (SVT) Ford Special Vehicle Team Engineered and assembled at Auto Alliance International on April 4, 2007. Documented with the window sticker, dealer invoice, dealer literature, owners manual pouch, 3-ring binder, and dozens of magazines. Also has the car cover, Shelby tool kit, and wax kit. From California. Looks, runs, and drives new. CC:1 $45,000.00
Share on Facebook