The Barrett-Jackson Experience • Scottsdale • January 2007
The "Last" Sting Ray rolled across the block bringing a much deserved bid for a car with such a historic and weighty pedigree of $600,000.00. The "Last" Corvette Project was more than a simple restoration as it out performed every expectation. Classic car enthusiasts came together to make this '67 an award winner and The Chip Miller Charitable Foundation benefited from matching funds with a gift of $40,000.00. The pair of 1963 Corvette Tankers, The pair of 1963 Tankers, "The Buckeye Bookends", sold for a hefty $561,000.00 including the juice. The Tankers were perfectly matched as one was built for bare-bone speed and the other for road hugging comfort. Any questions? email: proteam@proteamcorvette.com
The Fall Chevy Vette Fest • Chicago, Ill. • November 2006
Nine-4-Nine... The Fall Chevy Vette Fest was the site for a feat that will not soon be replicated. Nine Corvettes from the ProTeam Classic Corvette collection went into competition seeking Gold Spinners and each came away a winner. Of those unprecedented nine Gold Spinners, five also received the famed Triple Crown award. Winning a Triple Crown can only come after a car has earned a Bloomington Gold Certificate, an NCRS Top Flight, and then put through another judging gauntlet where the car must meet rigorous standards in originality, condition, and detail at the Chevy Vette Fest Nationals. Among the Triple Crown winners were The "Last"™ Sting Ray and four big horse 1967's which include Bloomington Survivors and Benchmark Corvettes. Gold Spinners also went to a pair of original "real deal" 1967 Corvettes and ProTeam's two 1969 L-88 Convertibles. Yet, another crowning moment, Nine-4-Nine. First time ever? We dare you to find another time when so many Corvettes from one collection amassed so much sought after hardware in one showing. Impressive? Nah, just another day among the most decorated collection of classic Corvettes in the world.
The SEMA Convention• Las Vegas, Nv. • November 2006
The "Last"™ is center stage... at the Barrett-Jackson Experience in Hot Rod Alley at the recent SEMA Convention in Las Vegas. To see more go to The "Last"™ Corvette
The Fall Corvette Expo • Knoxville, Tn. • October 2006
The "Last"™ Wows Them at the Corvette Expo... The "Last"™ Corvette brought home two more pieces of hardware for the shelf from the recent Corvette Expo Fall Knoxville 2006. The silver '67 coupe took both the Expo Excellence and the Diamond 5 awards. The "Last"™ Sting Ray was also featured on the front cover of the show program with original art by ET Graphics of Knoxville who nearly sold out of the exclusive "Last"™ apparel during the weekend event.
Mid America Motorworks Funfest • Effingham, Ill. • September 2006
"Last"™ Corvette attends Mid America Motorwork's Funfest.. The "Last"™ Corvette was on display during Corvette Funfest. "It was an honor to be invited by Mid America Motorworks to display the "Last"™ Sting Ray in Mike Yager's M.Y. Garage, consisting of some of the most historical significant Corvettes in existence" said Nathan Sheets, Auburn ProTeam Manager. Corvette Funfest is a "customer appreciation party" hosted every year by Mid America Motorworks as a way of saying "Thank You!" to their Corvette customers. Corvette Funfest is held at Mid America Motorworks campus in Effingham, IL. It is one of the largest Corvette gatherings in the world. An estimated 14,000 Corvettes and 60,000 Corvette enthusiasts participated in Corvette Funfest 2006.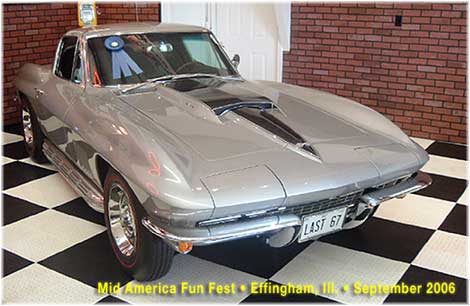 Corvettes at Carlisle, Aug. '06 • Carlisle, Pa.
The Carlisle, Pennsylvania Sentinal News Sees Yellow, above the fold and on page one... Even though they are now a collector's item, the infamous ProTeam Yellow Bags still make a splash in the lead story about the four day Corvette event.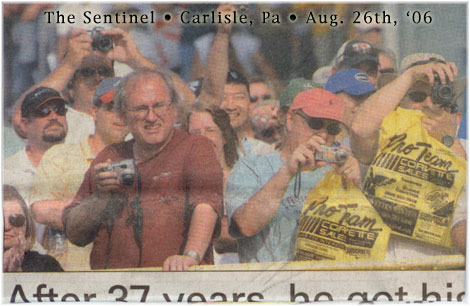 The "Last"™ Corvette earns Meadow Brook's Lion Class Award, Aug. '06 • Rochester, Mi.
The "Last"™ Corvette Goes Black-Tie... Tuxedos and caviar, Rolls Royce and Bentley... not your typical car show by any means. This was the setting for the recent Meadow Brook Concours d'Elegance held August 6th, 2006 just north of Detroit, Michigan. An invitation to attend such a prestigious event is a tremendous honor in itself. The "Last"™ Corvette was alongside some of the rarest and timeless cars ever created, all vying for recognition that seems almost dreamlike. America's favorite sports car has moved to higher ground by winning the Meadow Brook Lion Class Award and the honor of being judged alongside the best of the best. ProTeam would like to thank the Meadow Brook committee for inviting us to attend this once in a lifetime event and a special thanks to Werner Meier for all his help.
Bloomington Gold Corvettes USA • St. Charles, Ill. , June 17th & 18th, 2006
ProTeam Strikes Gold with the "Last"™ Corvette... ProTeam enters Summer 2006 where it ended the Spring season as the world famous most dynamic collection of classic Corvettes. ProTeam added 29 Corvettes to its magnificent stable of horsepower. The seemingly endless line of cars for the auction left us wondering were there any more great Corvettes on the planet. When you come to Bloomington, you have to bring your "A" game, so with stealth-like efficiency, ProTeam targeted cars with that look, sound, and story. Their descriptions appear on line at our new arrival section and on the car for sale pages, better yet, call or email ProTeam and we can help you out. Bloomington Gold '06 also marked the return of the "Last"™ Sting Ray that was first shown in its raw state in 2005. This year, The "Last"™ Corvette was presented for judging in the best Corvette venue bar none, Pheasant Run. The 1967 Sting Ray was judged alongside a competitive field of Corvettes. Between rain drops and under the haze of a cloudy day, the "Last"™ '67 shined through and earned the coveted Bloomington Gold distinction. This honor ranks among the highest this car has received among the many its earned over the last six months. There is a reason that Bloomington is considered the grandaddy of them all. Bloomington Gold is the ultimate destination for those in the Corvette hobby. Old friends, great atmosphere, and perfect hosts could only be out done by the great Corvettes. The best Bloomington Gold ever? Surely, the best I've ever attended. God Bless America! Land of the free because of the brave!... and the Bloomington Gold USA event!
NCRS Michigan Chapter Meet • West Bloomfield, Mi. , June 2nd & 3rd, 2006
Completing one more leg on the long campaign trail, the "Last"™ Corvette attended the NCRS Michigan Chapter Meet held at Cauley Chevrolet in West Bloomfield, Michigan on June 2nd and 3rd, 2006. As always, the Michigan Chapter extended a very warm welcome to ProTeam and the "Last"™ which is why this is among my favorite meets to attend. Losing just thirteen (13) points , the "Last"™ Sting Ray faired very well bringing home yet another NCRS Top Flight. ProTeam and myself would like to send a special thanks to Howard Hoover, Cauley Chevrolet, and the entire NCRS Michigan Chapter for another exceptional meet. PS: Congratulations on your Chapter Top Flight qualification. You guys deserve it!. email: proteam@proteamcorvette.com
NCRS Indiana Chapter Meet • Spring Auburn '06, Auburn, In. , May 19th & 21st, 2006
ProTeam recently attended the NCRS Indiana Chapter Regional Meet held at the Kruse WWII Victory Museum in Auburn, Indiana. We entered a total of six cars into the field of 113 cars that came for this prestigious event. Directly off the showroom floor, we entered a 1962 (210X), two 1963 Split Windows (1963 Tankers Bookends; 316W & 150X), and two 1967 Big Block cars (160X & 155X) for Flight judging. Also in attendance was The "Last"™ Corvette (TheLastCorvette.com) for Performance Verification. Of the five cars submitted for Flight judging, we received one Top Flight award and four Second Flight awards. Unfortunately, The "Last"™ Corvette failed its first crack at the grueling PV test but we're very very close. This being the very first Regional event hosted by the NCRS Indiana Chapter, ProTeam would like to extend its gratitude for a job well done. Their enthusiasm and professionalism are second to none. A special thanks to Ken Sleeper and Brian Davies for their devotion over and above the call of duty. email: proteam@proteamcorvette.com
ProTeam Goes to Chicago and Bring Home Gold & Silver • Chicago Vette Fest, April 1st & 2nd, 2006
April 1st and 2nd brings us to the next stop on the long campaign trail of the "Last"™ Corvette (TheLastCorvette.com). The Chevy Vette Fest in Chicago, Illinois in its 25th year, the Chevy Vette Fest is held twice a year, spring and fall, and is a crucial event for this is where the coveted Gold Spinner and Triple Crown awards are earned. A record number of participants showed-up making the judging field the largest ever for the spring show. Along with the "Last"™ Corvette, ProTeam also entered its two 1963 Tankers into judging. The ultra-rare Red/Red 250 hp automatic factory air conditioned tanker (Stk #316W) and the Red/Black Z06 tanker (Stk #150X). All of the cars faired very well with the "Last"™ and the Z06 Tanker bringing home the Gold and the Red factory air tanker scoring a Silver. ProTeam would like to thank Bob Ashton of Championship Auto Shows for making this show a Corvette and Chevy lover's dream. email: proteam@proteamcorvette.com
ProTeam Travels with the "Last"™ Corvette to the Corvette Expo in Knoxville, March 17th & 18th, 2006
ProTeam accepted an invitation to show The "Last"™ Corvette at the Spring Corvette Expo in Knoxville, Tn. Fair weather and large crowds proved once again that America's sportscar, the Corvette, is near and dear to the hearts of a large and still growing group of fans. Drawing a large amount of attention, The "Last"™ faired very well with fans and judges alike. When all was said and done, The "Last"™ received the Top Five award and the prestigious Most Significant Corvette award. ProTeam would like to thank Byron Cooper and the entire Expo crew for another great show. email: proteam@proteamcorvette.com
ProTeam Accompanies The "Last"™ Corvette to the 54th Annual Detroit AutoRama, Marh 3-5, 2006
The "Last"™ Corvette accepted an invitation to bookend the GM Restoration Parts Display at the 54th Annual Detroit Autorama held March 3rd through the 5th, 2006. The International Show Car Association (ISCA) event had over 160,000 in attendance and 900 cars competing. Billed as the premier Hot Rod Show in the country, tricked-out 'rods from across the U.S. vied for the top prize, "The Riddler Award". The "Last"™ Corvette showed well placing second in the domestic sports category. Second place among this elite class means sitting alongside the most fastidious über-restorations in the country. Not bad for an old 'Vette with historic pedigree. Any questions? email: proteam@proteamcorvette.com
ProTeam Travels from Arizona to Florida in January '06 and brings home 67 in 30 days
ProTeam Corvette adds 67 Corvettes (valued at over 5 million dollars) to its already massive classic Corvette collection (now over 200) during the month of January 2006. Our challenge took us on a war path that lead us coast to coast - - sea to shining sea and a run in the sun and we bettered our goal of 50 Corvette purchases by 17 cars or 34%. Living out of suitcases for three weeks, many airport departures, eight collector car auctions, five car shows, and dozens of private sellers... It was a whirlwind... rapid-fire... nonstop launch that involved tremendous planning and precision in a successful reboot (reload) of our inventory after a very active and successful year end sale that ended December 30th, 2005. Some of the more significant purchases are a Bloomington Gold 1963 ZO6 Tanker (1 of 63), The "Brass Hat" 435 hp Corvette, a 1967 435 hp known as "Bounty Hunter III", the "Paradise" one owner 1954 Corvette, a pair of 1965 fuelies (his/hers) bookends, a 1961 collection (one of every color), Arie Luyendyk's Tasco Turquoise 1960 Corvette, an ISCA 1966 Medallion Cup National show winner, a 1957 Duntov Fuelie, a 1967 Duntov 435, three 1954's (First Generation) Corvettes, three 1965 Corvettes equipped with the rare 396-425 hp engines, three 1966 Corvettes with the 427-425 hp engines, and a pair of 1970 convertibles optioned with the rare LT-1 engines. Many of these Corvettes were NCRS and/or Bloomington Gold certified. The final count: 3 -1954's, 2 - 1957's, 2 - 1958's, 4 - 1959's, 5 - 1960's, 8 - 1961's, 3 - 1962's, 2 - 1963's, 1 -1964, 10 - 1965's, 11 - 1966's, 14 - 1967's, and 2 - 1970's... ie: Total 67. Any questions? email: proteam@proteamcorvette.com
Line-up of new ProTeam Corvettes heading to Napoleon

Scouting for Corvettes

We even scouted for Corvettes
Down Under

Checking out the corral before
the auction

VIN #003 would have looked
great next to VIN #22940

Terry talks Corvettes, Muscle,
& Classic Cars with Motor Trend

Arie Luyendyk's '60 joins
the ProTeam collection

Howie lays in wait for that
next Corvette "barn find"

ProTeam's "new" '54
by moonlight (Stk #123X)

The "Last"™ Corvette draws
a crowd at the NCRS
Winter Regional

The NCRS judging leads to
a "Last"™ Corvette
NCRS Top Flight
Chevy Vette Fest • Chicago, Ill • November 5th - 6th, 2005
It was a day of intense judging for two of the ProTeam collection most traveled Corvettes; both came home with most prestigous and sought after car awards, the Triple Crown. The event was made more special when Noland Adams, Gold Spinner Council president, author, and noted Corvette historian signed each certificate. When a car has garnered a Bloomington Gold Certificate and an NCRS Top Flight, only then is the Corvette eligible for another judging gauntlet where the car must meet criteria with attention to originality, condition, and detail. ProTeam's 1966 "Black Rat" and the 1967 Red convertible met the challenges and brought home the Triple Crowns. This past weekend marked the first Chevy Vette Fest produced by Bob Ashton (Championship Auto Shows) and the transition could not have been more seamless. We congratulate Bob and his staff on the fine event and look forward Spring Chevy Vette Fest in April '06. Any questions? email: proteam@proteamcorvette.com
Auburn 2005 Classic Car Auction & Show • Auburn, In. • August 31st - September 5th, 2005
The sun shone bright on the 35th edition of this fall classic as thousands of cars and many more people came to buy, sell, and enjoy the Kruse hospitality. ProTeam Corvette held court in the connector building attached to the auction arena generating a buzz that hasn't quit yet. A steady stream of car lovers got a taste of the world famous classic Corvette collection as the cars at our display mirrored the Corvettes at our store in Ohio in both quality and "wow" factor. During the weekend event, we did manage to add a few more horses to the stable. You can check them out on our new arrivals page. ProTeam had the honor to be part of the inaugural "In The Meadows" concours held Sunday morning. Terry Michaelis, ProTeam President, and Brian Topp, ProTeam Sales Manager, judged the field of one hundred plus cars that lined up for the early Sunday morning show. Thanks to everyone involved with Kruse International and the Labor Day show in Auburn, Indiana. See ya next year! Any questions? email: proteam@proteamcorvette.com
| | | |
| --- | --- | --- |
| ProTeam Corvette New Auburn Digs | Welcoming the Auburn Faithful | 1963 Split Window in the Sun |
| Another Happy Yellow Bag Owner | A Virtual Corvette Museum | A Few of the Best ProTeam Corvettes |
Corvettes at Carlisle 2005 • Carlisle, Pa. • August 25th - 28th, 2005
The annual event did not disappoint as this year's installment was more proof that Carlisle and the Corvette hobby go hand in hand. Half of ProTeam's staff was in Carlisle to showcase our Corvette collection. If success was counted by the number of handshakes then we had a very good show. It was a time to renew friendships as many former ProTeam customers dropped by the tent to tell their own Corvette stories. Believe me, we enjoyed every one of them. It wasn't all play as we brought home over ten fine additions to the ProTeam collection. The Corvettes coming to Napoleon are a 1967 yellow big block convertible, a quartet of 1960's, and a 1969 435 hp with automatic transmission. The Last©™ Corvette made news as Lance Miller of Carlisle Productions and Terry Michaelis, ProTeam President, penned a deal that will ultimately benefit the Chip Miller Foundation. Find out all the recent news and happenings regarding the The Last©™ Corvette at thelastcorvette.com. The hospitality shown by the Carlisle Production staff was up to its usual high standards and we're already gearing up for Carlisle 2006 and have marked the calendar for August 25-27, 2006. Any questions? email: proteam@proteamcorvette.com
| | | |
| --- | --- | --- |
| ProTeam Carlisle Special Display | The Last©™ Corvette on center stage | Meeting old friends and ProTeam Corvette owners |
Bloomington Gold 2005 • St. Charles, Il. • June 24th through June 26th, 2005
The temperatures were in the 90's and the Corvettes arrived by the hundreds and ProTeam proved why it remains #1. Need convincing? Here are a few more numbers from Bloomington, a) Two Bloomington Gold awards, where as the National Corvette Certification Board has determined on the basis of its originality and condition within 95 to 100% of typical factory production. b) One Survivor award, where as the National Corvette Survivor Board believes it is in the best interest of historic research to preserve this automobile in its present state as a model for Corvette restoration. c) One Benchmark award, for those who want to know what factory original Corvettes look like. Benchmark cars appear not only restored but are also preserved within a minimum of 95% of typical production. Benchmark cars represent the standards which historians, judges, and future restorers can use to determine factory authenticity. Benchmark cars may be the sport's best link to the past and preserving Corvette's factory authentic heritage in the future. Bloomington Benchmark cars are very few... The judging system eliminates many contenders for obvious reasons. d) 27 Corvettes purchased on the Bloomington grounds and area streets (just under 2 million dollars), e) Special Display and recognition of The "Last"©™ Corvette, f) Distribution (giveaway) of 550 of The "Last"©™ commemorative t-shirts (in 15 minutes), g) 277 personal handshakes by company president (yes! He keeps count). Check out these show winners and nearly 200 other Corvettes online at www.proteamcorvette.com. Congratulations to everyone at Bloomington Gold, Dave Burroughs, and Dana Mecum of Mecum Auctions on a great weekend. We look forward to 2006 when we return to St. Charles and the "Grand Daddy Of Them All!!"
| | | |
| --- | --- | --- |
| | "The Last©™ Corvette" | T. McKeever presents former PT-'67 for Survivor/Benchmark - Congrats Tom! |
| Part of the PT Crew | Buyer Tom Doing his part. Picking up a limited edition "heads up" penny | Judges at Bloomington combing the ProTeam Benchmark Corvette (Stk #404U) |
| Pat Weidman standing with former PT '57 Corvette and now "Gold" winner - Claire & Pat Weidman Owners | D. Metzger with his "Gold" Corvette - Congrats Del! | This ice sculpture is in stark contrast to the "heat" at Bloomington |
| T. Michaelis sparring with legendary BG judge Ken Nabers - Who won? | T. Michaelis en route to receive BG Benchmark award (Stk. #404U) | Bloomington Gold as seen from the 16th floor |
| Chip Miller's ex-1955, still part of the show | The "Black Rat" receives "Gold" | Bloomington Survivor, Gold, & Benchmark. Oh My! All awarded to PT Corvettes |
---
Spring Auburn 2005 • Auburn, Indiana • May 19th through May 22nd, 2005
The Kruse Auction Site in Auburn, Indiana was host to a classic car show and auction. Members of the ProTeam Corvette team had the opportunity to talk with over 1,000 old friends, Corvette shoppers, and classic car lovers on Saturday alone. Wow! Have a question about these cars featured in these photos, feel free to contact us at proteam@proteamcorvette.com
---
Chicago Chevy/Vette Fest 2005 • Chicago, Illinois • March 13th, 2005
ProTeam Corvette was well represented with three of the best from the ProTeam collection participating. The two '67's and the '66 batted a thousand going three for three each winning a Gold Spinner award and one coming home with the coveted Triple Crown. Want more? Read about the whole experience in our news clips.
---
Barrett-Jackson Auction Event • Scottsdale, Arizona • January 2005
The Barrett-Jackson Auction in Scottsdale in January did not disappoint. It was a chance to bring back some great Corvettes to Napoleon and say good-bye to an old friend, "Scotty." The one and only '58 Retractable Hardtop Corvette established a world record for a 1958 Corvette sold at public auction (over $300,000.00) on January 29th. The importance of the '58 and the ProTeam collection did not go unnoticed as ProTeam President Terry Michaelis was booked solid with interviews featured on radio, television, and in the print media. For those with a keen eye, check out the gold car sitting behind our Retractable. It is the Oldsmobile proto-type (really a 1954 Corvette) that bid up to a cool 3 million dollars. Any other questions, feel free to contact us at proteam@proteamcorvette.com