CORVETTE TOMB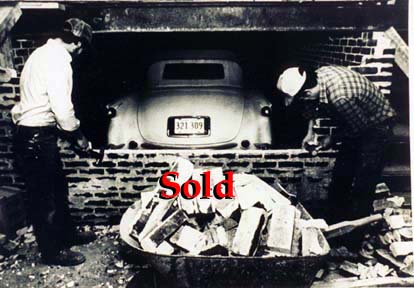 This is the "Entombed 1954 Corvette" that was entombed for nearly three decades
and recently sold by ProTeam.



This 1954 Corvette spent twenty-seven years sealed in it's tomb of bricks and mortar within a grocery store in New Brunswick, Maine where Millionaire Richard Sampson owned the store and the Corvette.

The 1954 Corvette is all original - - the odometer reads only 2331 actual miles but the story doesn't end there. This store was built with an extra room... a brick vault that was home to the White 1954 Corvette for over a quarter of a century. It was his wish in Mr. Sampson's will, that the car remain sealed in brick until the year 2000. However, under new ownership in 1986, They asked that it be removed and returned to the family. Richard's daughter, Cynthia Sampson then took it to Florida and parked it in her living room for approximately 10 years.

This Corvette will be displayed with a placard in honor of Mr. Richard Sampson which was part of the acquisition negotiation with Mr. Sampson's daughter, Cynthia. It is probably the oldest lowest mile unrestored Corvette in the world. Bloomington Gold invited this 1954 Corvette to be displayed in the 1996 Special Collection XIII... "The Classics 1953-1962."

This "Entombed 1954 Corvette" is featured on ProTeam's Historical Collection Video. A viewer friendly quality video entitled "The Historical Collection" is available for $9.95 plus $3.00 postage and handling.





---
ProTeam Site Index | Current Corvette Inventory | ProTeam Just Arrivals | Sell us Your Corvette | Order Corvette Catalog | Request a Vette | Welcome to ProTeam Classic Corvettes | ProTeam's Showroom | ProTeam's Gift Shop | Corvette Parts Department | Service Center | Transportation
---



Proteam Classic Corvette Collection and Sales
P.O. Box 606, Napoleon, OH 43545
TOLL FREE NUMBER1-888-592-5086
Phone: 419-592-5086
Fax: 419-592-4242
Or e-mail us at Proteam@proteam-corvette.com
---


Back to index