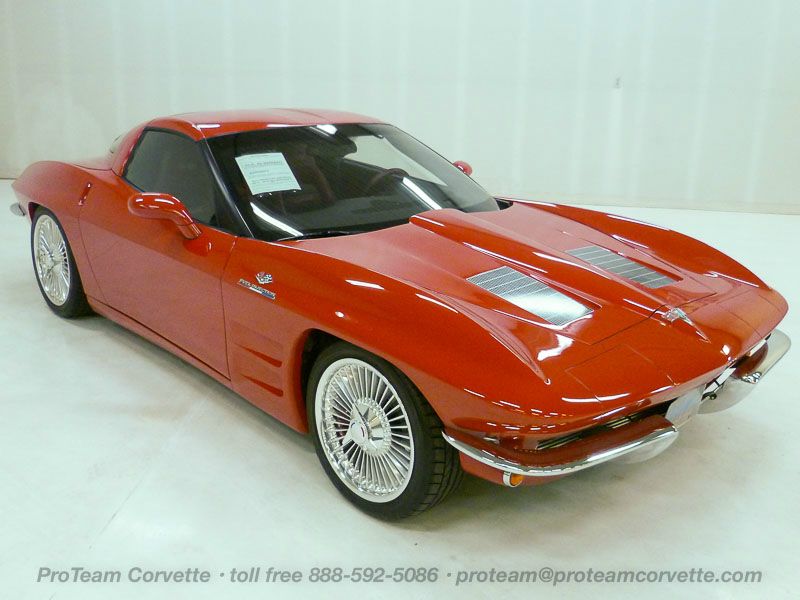 1030Q..
1963 Corvette Split Window Karl Kustoms Conversion
on a 2008 Corvette, 6.2L, V-8, 6 speed manual, car number 004C of 10 produced with 104 actual miles. Riverside
Red
paint with Red and Black interior. Amazingly attractive in new condition. Massive performance and modern drivability of the sixth generation Corvette with all factory safety features and a targa top for open air enjoyment if so desired. 3LT trim, Z51 performance package, dual climate control, AM/FM stereo, heads-up display, and faux imitation K.O. wheels and Bridgestone Potenza radial tires. Has its owners manual, Corvette DVD, and clean CarFax. Also has the GM window sticker, build sheet, certificate of origin, dealer invoice and Karl Kustom build invoices. From the Jerry Brewis collection. Looks, runs, and drives like new! $199,000.00
Share on Facebook
Questions/Comments? Email proteam@proteamcorvette.com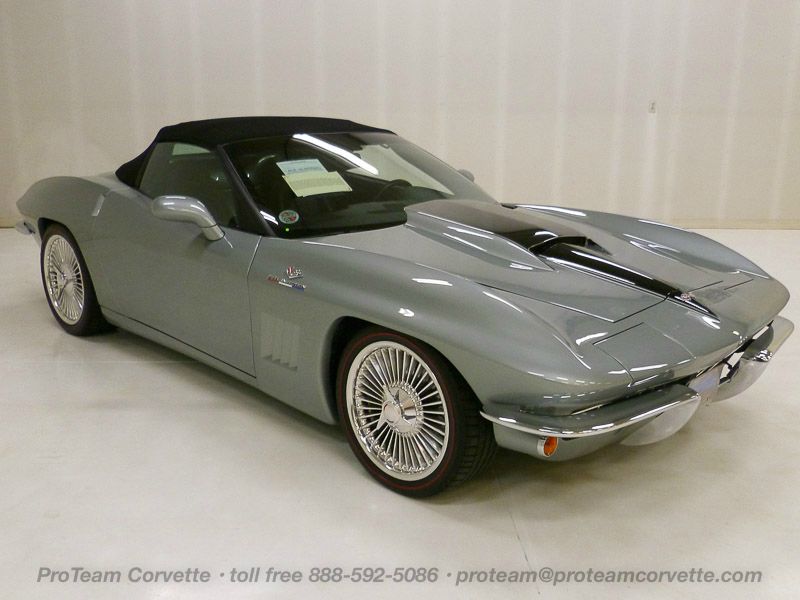 1003Q..
1967 Corvette Karl Kustom Conversion Convertible on a 2008 Corvette
, build #007R, 6.2 L/430 hp LS3 engine with 6-speed paddle shift automatic, 3-owner car with 12,160 actual miles. Mosport
Green
paint with a Black stinger, Black interior and Black power soft top... all in excellent show condition. One of eleven convertibles converted to the (1967) C2 body configuration. Modern GM reliability, drivetrain, interior, chassis, options and GM safety features remain factory and unaltered. Drive anywhere comfortably and safely and not worry about some put-together old midyear resto-mod. This 1967/2008 KK conversion is a custom one-off build completed by Karl Kustoms of Ankney, Iowa who produced precise high strength body panels and meticulously applied them to this C6 convertible to give the look of a classic Corvette that could be driven and enjoyed with modern safety and performance of today's Corvettes. Most all 2008 factory comfort and conveniences options including the 3LT preferred equipment group, K.O. style aluminum wheels and redline radials. Documented with owners manual, owners manual pouch, window sticker, build sheet, clean CarFax and show board. Looks, runs, and drives excellent. CC:1 $149,000.00
SOLD
Share on Facebook
Questions/Comments? Email proteam@proteamcorvette.com
ALL CARS SHOWN BY APPOINTMENT ONLY...
Monday through Friday 9:00am through 4:00pm.
Call ahead at 419-592-5086 or email directly at
proteam@proteamcorvette.com
Corvette Black Book

Order a

Corvette Black Book

. 160 pages including a minimum of two pages for each car produced, glossary of terms, historic dates, instructions, trend graphs, Corvette chronology, and photos/specifications. The Corvette Black Book also has an extrapolation section to help you zero-in on Corvettes with genuinely rare option combinations.

This is the genuine pocket sized Corvette Black Book.

Available at $25.00 each. Plus $8.00 per item. Ohio residents add 7.25% sales tax. (postage and packaging in contiguous US).
Corvette News | Events | Tech Help

Feature Cars | New Arrivals
By joining our community e-newsletter, we will keep you up to speed every two weeks or so with Corvette related news.
We will never sell or share your information and you can opt out at anytime.
*Fill out the form below to receive ProTeam's FREE electronic newsletter and join our community, thank-you.
Click here to check out ProTeam's Corvette news archives dating back to January 2006