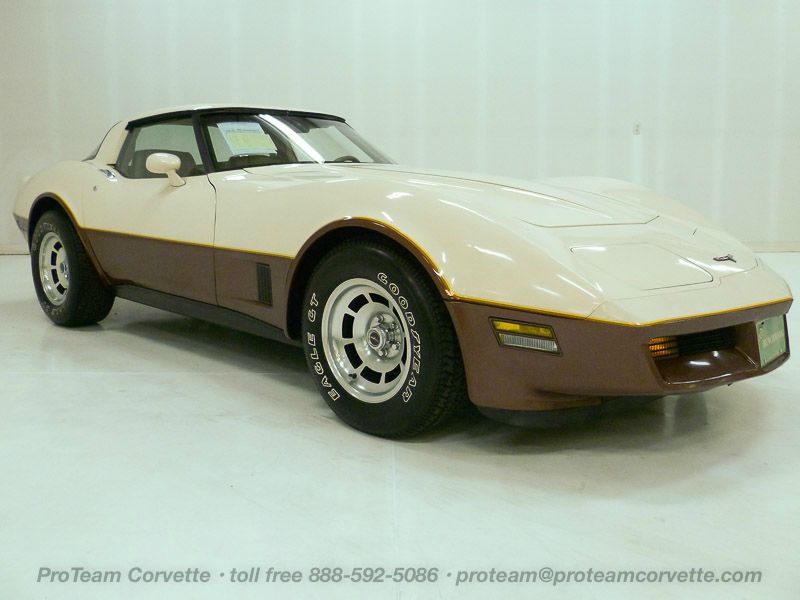 1015Q..1981 Corvette "Benchmark" Coupe, VIN 72, 350, 5.7 liter, automatic, numbers matching original drivetrain, also has factory original body/trim tag, 3,041 actual miles. Two-Tone
Beige/Dark Bronze
paint with Camel leather interior. Original unrestored low-mile Survivor in show condition. Bloomington Gold, Survivor and Benchmark certified. Also regional NCRS Top Flight award. This car is one of the elite few recipients of America's most prestigious Corvette awards, the happy result of a lifetime of diligent care and discerning use. Unrestored and original!! It was judged worthy of Bloomington Gold Certification, Survivor and Benchmark honors, the latter being the most important of all to the demanding collector. Benchmark Certification recognizes each recipient as not only unrestored—a quality recognized in Survivor judging—but also that it remains in showroom condition, exactly as it was upon delivery from the factory with the exception of aging. These qualities make it the perfect source of reference for a top-quality restoration of a like car, ergo the term "Benchmark." Benchmark Certification is only awarded to cars that have achieved both Gold and Survivor on the same weekend, qualify in all four Survivor categories. Benchmark is, by definition, the most important distinction in the entire Corvette judging regime. This is the 72nd Corvette produced in Bowling Green Corvette plant and 1 of approximately 25 produced in this color combination. Optioned with factory air, power steering, power brakes, power windows, power antenna, power door locks, cruise control, leather, tilt-n-telescopic, posi, heavy duty battery, SS brakes, AM/FM radio with stereo cassette, rear window defog, audio alarm, sport power mirrors, tinted glass, aluminum wheels and raised white lettered radials. Most all factory correct type components including the spare, jack, jack tools, floor mats, T-Top bags, seat belts, washer system, smog system, shifter, shielding, air cleaner, alternator, distributor, spark plug shields, hoses, hose clamps, window glass, valve covers, radiator, gas door assembly, warranty booklets, owners manual, sales brochure, and power beam headlights. Documented with the window sticker, build sheet, warranty pamphlets, owners manual packet, owner history, copies of the titles, Bloomington and NCRS certificates and judging sheets. Sold new by Wilson Chevrolet-Cadillac (dealer code 756 in zone 17). Previous owner/displayed by the Mark Martin Klassik Automobile Museum and the Bob McDorman Collection. Also owned by and displayed multiple times by the Pam Lambert Collection and the ProTeam Personal Reserve. Looks, runs, and drives excellent. CC:1 $39,995.00
SOLD
Share on Facebook
Questions/Comments? Email proteam@proteamcorvette.com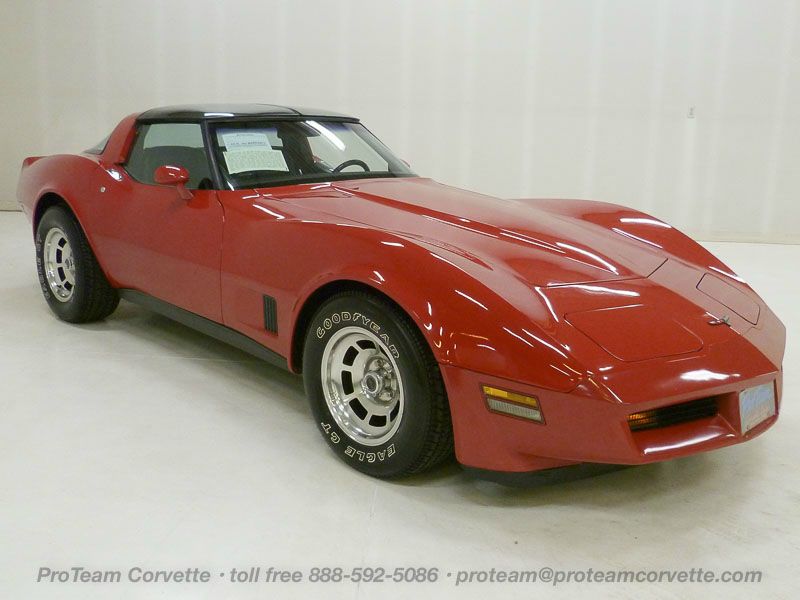 1050Q..1981 Corvette T-Top, 350, turbo-hydramatic, numbers matching, 2 owner car with 9,024 actual miles.
Red
paint with Black interior. Original unrestored unmolested low-mile time-capsule in amazing excellent condition. Especially considering that it's 41 years old. These original unmolested cars are among the rarest of rare and are rising to the top of the Corvette food chain as unrestored cars are used as guideposts for restorers, shining a light on the way vehicles were originally built and represent the standards which historians, judges, and future restorers can use to determine factory authenticity. The solid feel of an excellent unrestored car cannot be overstated! This is the last of the St. Louis produced Corvettes which started in 1954. Optioned with factory air, power steering, power brakes, power windows, power driver seat, power antenna, power door locks, cruise control, leather, tilt-n-telescopic, AM/FM stereo cassette, glass tops, sport mirrors, Alloy wheels and raised white lettered radials. Most all factory correct type components including the spare, jack, jack tools, floor mats, T-Top bags, seat belts, washer system, smog system, shifter, shielding, air cleaner, alternator, hoses, hose clamps, window glass, valve covers, owners manual, and sales brochure. This low mile car was purchased by the Ashtabula Collection from the original owner. Looks, runs, and drives very nice. CC:2
SOLD
Share on Facebook
Questions/Comments? Email proteam@proteamcorvette.com
ALL CARS SHOWN BY APPOINTMENT ONLY...
Monday through Friday 9:00am through 4:00pm.
Call ahead at 419-592-5086 or email directly at
proteam@proteamcorvette.com
Corvette Black Book

Order a

Corvette Black Book

. 160 pages including a minimum of two pages for each car produced, glossary of terms, historic dates, instructions, trend graphs, Corvette chronology, and photos/specifications. The Corvette Black Book also has an extrapolation section to help you zero-in on Corvettes with genuinely rare option combinations.

This is the genuine pocket sized Corvette Black Book.

Available at $25.00 each. Plus $8.00 per item. Ohio residents add 7.25% sales tax. (postage and packaging in contiguous US).
Corvette News | Events | Tech Help

Feature Cars | New Arrivals
By joining our community e-newsletter, we will keep you up to speed every two weeks or so with Corvette related news.
We will never sell or share your information and you can opt out at anytime.
*Fill out the form below to receive ProTeam's FREE electronic newsletter and join our community, thank-you.
Click here to check out ProTeam's Corvette news archives dating back to January 2006