The 1956-57 Era (3 in stock)
The following Corvettes are all from the years 1956 to 1957. ProTeam Classic Corvette Collection and Sales has the world famous collection of classic Corvettes. ProTeam has two type Corvettes on display: (A) Corvette for sale cars which include many very nice Corvettes which are actively marketed and for sale and (B) The Collection which include some of the rarest Corvettes ever made. These cars are not actively marketed but are on display and many have been invited to very special shows around the country. We would consider offers on our collection cars should that offer advance our position. Complete description with photos and prices are located here on line. Money Back Guarantee. Delivery, finance, and insurance are available here on line. Review our condition codes before making any purchase. Please read our descriptions carefully as we attempt to answer many very important questions and give you, the purchaser, peace of mind. Have a specific question or request - proteam@proteamcorvette.com

Click on car for more detailed images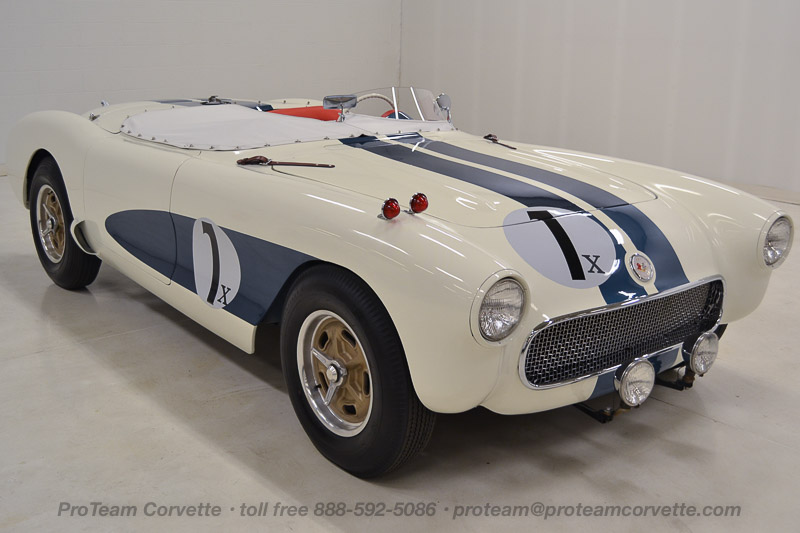 1005H..
1956 Corvette SR1 Tribute "The Real McCoy"
, 265 V8 engine with dual fours and manual transmission. Polo
White
paint with Blue coves, Blue stripes, and Red interior. This replica is a beautifully executed tribute to the Sebring Class - Winning SR1 prototype and accompanied with Chevrolet Engineering Experimental Shop and Garage build orders. The SR1 (Special Racing) Prototype was created by GM's Chevrolet Engineering in late 1955 and early 1956. In Corvette's first entry into sports car racing, at the 1956 Sebring 12 Hours, the SR1 driven by John Fitch and Walt Hansgen won its class and finished 9th overall. The chassis has many period-correct race features including high-rate shortened front coil springs and faster steering. The rear suspension has lengthened shackles and five-leaf springs. Lightened by 250 lbs. and equipped with Halibrand pin-drive and spin-on retainers. These type restorations normally cost between $80,000.00 to $125,000.00. Three owners from new and stored approximately 40 years. $119,000.00 Email:
terry@proteamcorvette.com
Share on Facebook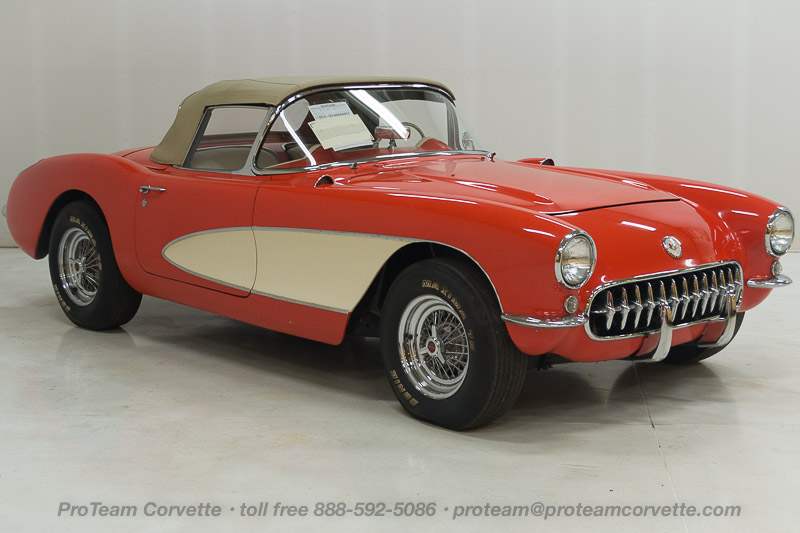 1015K..1956 Corvette Convertible, 265-220 hp, 4 speed. Venetian
Red
paint with Beige coves, Beige interior, and Beige soft top. Barn/garage found semi-project car recently purchased from a local
hoarders
estate. Older body-off restoration that will probably clean up. Optioned with e-brake warning light, off road exhaust, windshield washers, heater, wire mag wheels, and raised white lettered tires. Most all factory correct type components including the trunk mat, trunk liner, rebound straps, shifter, shielding, air cleaner, generator, spark plug shields, hood pop-ups, radiator, guide Y-50 mirror, owners manual, and sales brochure. CC:3 $39,995.00
which may be a gift!!
SOLD
Share on Facebook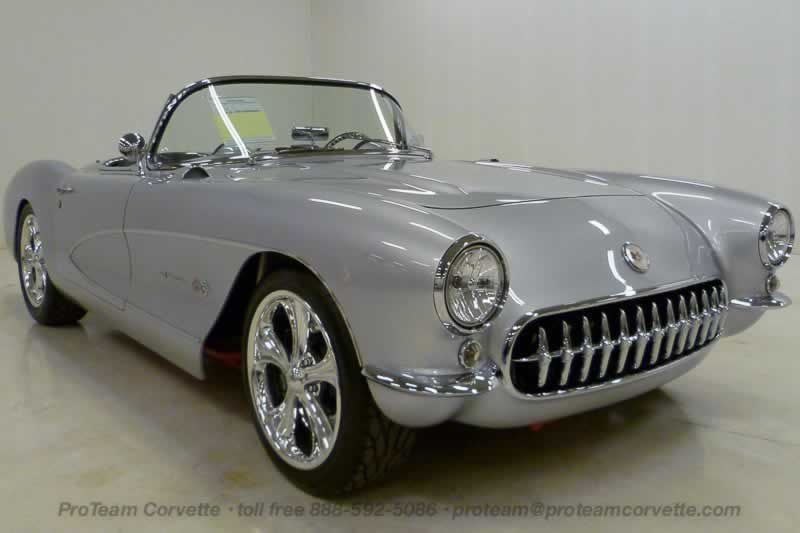 1004G..
1957 Corvette Custom Retro-Mod 454-510 hp
, ZL1 all aluminum limited edition big block engine (#178 of 200 produced) followed by TREMEC TKO600 5-speed transmission and a new 3.73 rear end. SRIII round tube frame utilizing the C4 Corvette aluminum suspension. Featuring a 2-1/2" ceramic-coated hand-built exhaust system with X-pipe, Wilwood brake system, 13" cross-drilled/gas-vented rotors and 6-piston calipers on front and rear and a Wilwood master cylinder. Also has custom instrumentation built by Classic Instruments, vintage air and heat system, an in-dash 2"x3" DVD monitor with a JL audio surround sound and a 15" Magnavox DVD monitor in the trunk. Basecoat clear-coat Inca
Silver
paint with a custom Black and Red ostrich skin leather interior by past Riddler award winner Bob Griffey and a custom Black Al Knoch sta-fast Soft top. Designed and built by Kent Waters who was a Winston Cup car builder formerly with Bill and Ernie Elliott. Kent purchased this car from a friend, the second owner who owned since 1966. These type custom builds can easily exceed $200,000.00 to build.
Click here
to review this car's specifications. This is a beautiful retro-mod that when finished had a near perfect 50/50 weight balance front to rear. Well-documented car and builder! From the Ron Pratt collection! $195,000.00
SOLD
Share on Facebook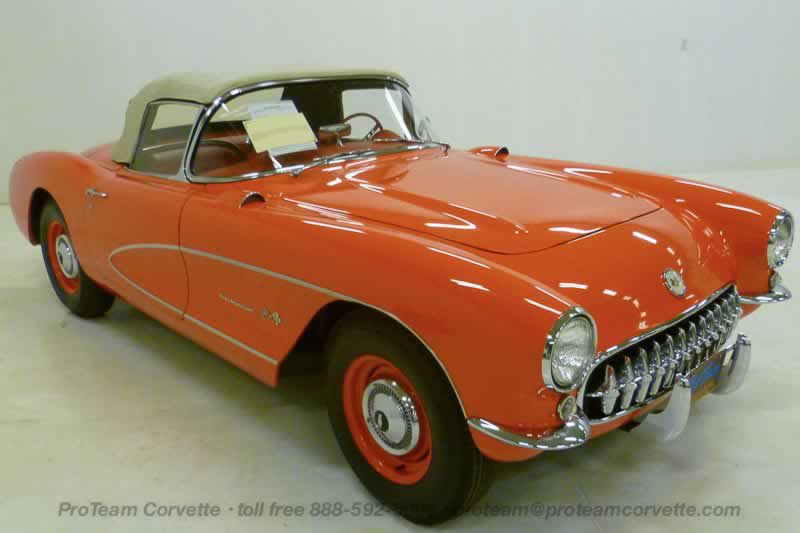 1012F..1957 Corvette Convertible, 283-283 hp, (fuelie), 4 speed with RPO-684 race package consisting of:
Heavy Duty Brakes
, suspension, springs, shocks, stabilizer bar, metallic brakes, cooling fans, wide wheels, and fast steering adaptor, of which only 51 were produced in 1957 for racing to defend the honor of the Corvette brand. Venetian
Red
paint with matching interior and Beige soft top. Professional body-off restoration and all in excellent condition. These type restorations normally cost between $80,000.00 to $125,000.00. This recently restored Corvette has yet to be shown, creating an exciting opportunity for the next owner to exhibit the car and compete for trophies, awards, and recogintion! Very rare radio delete and heater delete car optioned with T-10 transmission, 4.11 posi, fuel injection, aluminized off road exhaust, courtesy lights, hubcaps, and 6.70x15" blackwall tires. Most all factory correct type components including the spare, jack, jack tools, trunk mat, trunk liner, rebound straps, spiral shocks, tar top battery, shifter, air cleaner, generator, distributor, hoses, hose clamps, hood blocks, hood pop-ups, F.I. unit, F.I. fuel filter, guide Y-50 mirror, owners manual, sales brochure, and T-3 headlights. Looks, runs, and drives excellent. VIN #E57S105868 CC:1 $129,000.00
Share on Facebook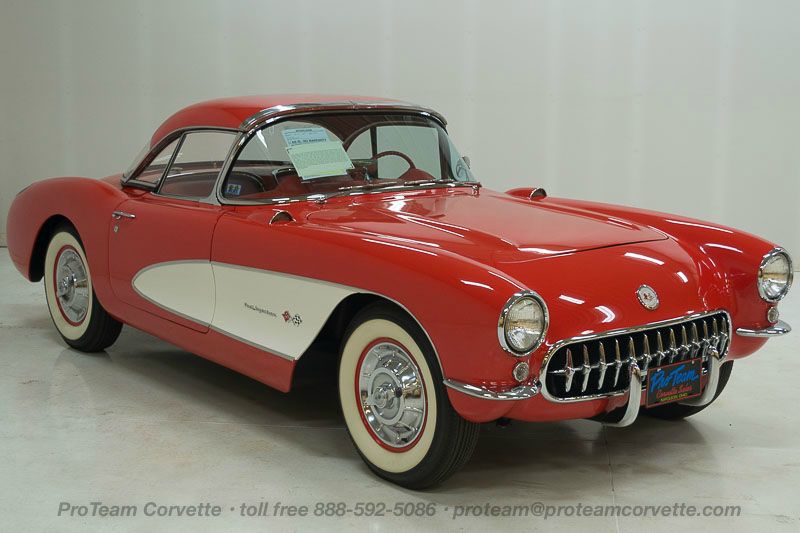 1002K..1957 Corvette Convertible Two Tops, 283-283 hp, (fuelie), 4 speed, numbers match. Venetian
Red
paint with Red waffle interior and White soft top. Only 3,127 miles on this beautiful body off restoration with newer paint, interior, chrome, stainless, exhaust, brakes, and tires. This car is show ready and also has rebuilt engine, fuel injection, transmission, and gages. November 5, 2005 Vette Fest National certification with Spinner award presentation on November 6th, 2005. Rare radio, and heater delete car optioned with auxiliary hardtop, T-10 transmission, fuel injection, aluminized off road exhaust, hubcaps, and 6.70x15" wide white tires. Most all factory correct type components including the spare, jack tools, trunk mat, trunk liner, rebound straps, F.I. unit, F.I. fuel filter, shifter, air cleaner, generator, and T-3 headlights. From the MBNA collection. Documented with the Vette Fest National Spinner award, certificate, and judging sheets. Looks, runs, and drives excellent. CC:+2 $99,000.00
Share on Facebook